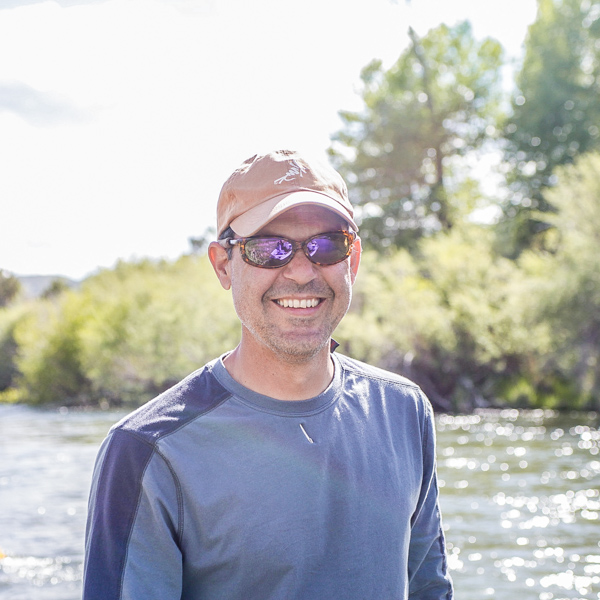 I'm Eric Paramore, fly fishing guide/outfitter, Umpqua pro tyer and owner of Hopper Fishing.
As a teenager I spent every spare moment teaching myself how to fly fish the streams of the Sierras in Northern California. It took me a full year before I even caught my first fish but I was hooked. Of course back then we didn't have the advantage of YouTube videos so I was going off books I found and a lot of good ol' trial and error. After college I moved out to Montana sight unseen to take a summer job working at Dan Bailey's Fly Shop. I put my time in as a shop boy, helping customers and learning everything I could about fly fishing and once again, spending every free moment out on the water. That was in 1999 and I've been here in Montana fishing and guiding ever since.
I wake up every morning still blown away that I get to share my biggest passion with other people as my job. How many people actually get to say that? When I'm not teaching people how to fly fish, showing them all of my favorite spots and techniques on some of the best rivers and streams in the world, I'm out there fishing that water myself. And when it gets too dark to fish, you'll find me at home tying up flies, watching the Buffalo Bills and enjoying an ice cold microbrew or some fresh home roasted coffee (I'm no hipster but the winters get long here so we've got to keep busy somehow).
If you want to chat fly fishing in Montana, just get in touch with me through the form below. I'm happy to answer any questions you have, make recommendations, talk fly tying, coffee roasting, or hear about that killer new beer that you think I should try. If you're looking for more info on our guided fly fishing trips or want to book a trip, click here.